Qatar Airways pilot Interview preparation!
The Preparation Consist of:
(1) Online Test (Inductive Reasoning, Critical Thinking and Personality Test)
(2) Phone / Skype Interview
(3) Introduction to Qatar airways (IN DOHA)
(4) 50 ATPL Questions (Similar to EASA / JAA) (IN DOHA)
(5) Group Exercise (IN DOHA)
(6) Panel Interview (IN DOHA)
(7) Simulator assessment (IN DOHA)
This interview preparation was last updated on 30 March, 2020
The content and information used on this website should only be used for preparation purposes. We are an independent web site and is not affiliated and have no commercial connection with Qatar Airways and their pilot assessments.
(1) Online Test
Inductive Reasoning
This test involves the ability to understand and analyze visual information and solve problems using visual reasoning. You will be asked to identify relationships, similarities and differences between shapes and patterns, to recognize visual sequences and to remember relationships between objects.
Inductive Reasoning (IQ) Test features a practice section with 20 questions, each with a detailed visual explanation of the answer. The test section features 3 different levels (easy, medium and hard). Each level will have a 20 random, time-limited questions. At the end of the test, a score will be calculated to show each individual how many correct and wrong answers they got.
Critical Thinking
Critical thinking is the ability to apply clear and reasoned thinking to solving problems. Critical thinking is a major facet of general cognitive ability, the strongest overall predictor of job performance. As a result, critical thinking tests are powerful predictors of performance at work, especially in combination with other aptitude tests.
Critical Thinking Test features a practice section with 10 questions, each with detailed explanation of the answer. The test section consist of 16 random time-limited questions. At the end of the test, a score will be calculated to show each individual how many correct and wrong answers they got.
Free version
Personality Test
It is almost impossible to prepare for such tests. Best way to answer these questions is to BE YOURSELF and BE HONEST!
Before you answer a personality questionnaire, find out about the organization and decide whether you like its culture and it's the kind of place you will thrive in. If it is, then apply confi dent in that knowledge, take time over each question and answer it in a way that shows you as the ideal candidate for the role and company.
Few sample questions below for personality test
Which statements best describes you? (leader, selfish, friendly, etc, etc)
Would you rather (example: clean a room or work within a group)
(2) Phone / Skype Interview
Skype Interview
The Skype Interview is a 5 - 10 minutes conversation with a training captain. The questions mostly consist of personality questions. Few examples below:
Tell us about yourself?
Why do you want to work for Qatar Airways?
Why do you want to leave your current job?
Subscribe to access our question bank!
(3) Introduction to Qatar airways
After being invited and shortly before your interview date (within one week), you will be sent an email with travel, accommodation and information for the selection.
The package contains:
Travel Tickets to / from DOH, print it. Copy of your visa, print it as well.
Sim Package Includes details about sim session, what's going to be assessed and basic briefing about aircraft and procedures. Subscribe to see the remaining study guide
(4) 50 ATPL Questions
ATPL Questions
During your assessment you will get 50 ATPL questions. These questions are very similar to JAA/EASA question bank. Few examples below:
If a pitot source is blocked in an ASI, and the drain hole is blocked, but the static source is open, what will happen?
Answer: ASI behaves like an altimeter
The error in altimeter readings caused by the variation of the static pressure near the source is known as:
Answer: position pressure error
90 knots is equal to how many km/hr
Answer: 166 Km/hr
An aircraft departs point A at an altitude of 1500m with the QNH set at 1010mb. It arrives over point B where the QNH is 990mb, and there is an obstacle 1000m high. Assuming 8m/mb what will be the obstacle clearance over B?
Answer: 340m (Click on the figure for solution).
550 ATPL questions with answers and explanations
Additional Study Guide For ATPL!
ATPL Questions Bank
Our additional study guide consist of EASA / JAA ATPL Question Bank. We will recommend which subjects you should study for best results.
(5) Group Exercise
Group Exercise
A group exercise is an assessed discussion exercise that involves a small group of candidates (usually 8-10 people), following a question posed by a member of a firm's recruitment team. Few Examples Below:
What items would the group save from a burning house, and in what order?
You have crashed on the moon and know you have to list 20 items in order of importance.
(6) Panel Interview
Panel Interview Questions
- What does you wife think about Hong Kong?
- Where does Cathay fly in North America?
- What recent cargo aircraft acquisitions has Cathay Pacific made?
- Did Cathay make a profit last year? How Much?
- Tell us about Cathay pacific destinations?
Question bank features 70 questions.
Please Note: Since most of these questions are based on your past experience no answers will be provided.
(7) Simulator Assessment
Simulator Assessment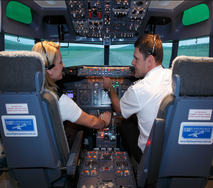 The sim assessment varies from day to day, so we will post one of the sim assessment that recently occurred. The sim ride will most likely be an Boeing 787, or sometimes A320. Straight out departure, sometimes the instructor will let you do some general handling, such as steep turn, climb, descent so you get a feel of the airplane. But most of the time they will immediate vector you for an ILS to land. You will be lined up for take off again, and this time you might get an engine failure before V1.
Subscribe to see the rest of the Sim assessment in details. Approach Plates for your Sim Assessment will be provided.
Discussion Board
Discussion Baord:
Our discussion board is a great way to get advice, find information, and meet other community members who share your interest and passion.
In this section you have the chance to ask questions and find valuable information about Qatar Airways pilot selection. Candidates that have passed the selection will share their interview experience with you.
Please Note! This study guide is an online course, we don't ship any books, CD's or any other study material. To access the study guide after your payment you must login to our website with your e-mail and password, then click on subscription tab.
Testimonials
"Had my interview early February 2018, Prepared only from this site and passed no problem. EASA Question Bank was a great tool ". Enzo - France
"My interview was in April 2014 and have to say that the aptitude test and atpl questions was worth they money spent". Saleh - Oman
"Studying through this gouge and the book ACE will get you well prepared for the interview." Josh - United States
How to subscribe!
Create an account as a job seeker and Login.
Select Qatar Airways Pilot Interview from Interview Preparation List.
Scroll Down on the page and proceed with the payment.