Eva Air Pilot Interview Preparation!
Eva Air Pilot assessment consist of:
Technical Questions (ATPL Questions)
Simulator Assessment
Human Resource Questions
Medical Exam
Eva Air Pilot Interview Gouge was last updated 08 April 2021
The content and information used on this website should only be used for preparation purposes. We are an independent web site and is not affiliated and have no commercial connection with Eva Air and their pilot assessments.
(1) Technical Questions
Tech Questions
During your assessment you will get 50 ATPL questions. Few questions below:
Lift Formula is?
Answer: L = (1/2) d v2 s CL
1st Segments stops at?
Answer: Landing gear is fully retracted with flaps in the takeoff setting
Subscribe to see the remaining questions with answers submitted to us.
(2) Simulator Assessment
Simulator Assessment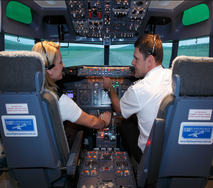 Eva Airways Sim Assessment
You will either fly Boeing 767-300, B747-400 or MD-11 simulator during your assessment. The simulator assessment consist of a normal take off, usually from runway 05L Taipei. You will either get Houlong 4 departure or,,,Subscribe to see the remaining questions with answers submitted to us.
(3) Human Resource Questions
Human Resource
During the oral exam you have to answer some technical and Human Resource type questions. Few examples below:
Please Note: Since most of these questions are based on your past experience no answers will be provided.
Tell us about yourself?
Why do you want to work for Eva Air?
Would you always follow SOP?
(4) Medical Exam
Medical Examination
The medical is the standard blood pressure, urin test, vision test, hearing test etc.
Discusssion Board
Discussion Baord:
Our discussion board is a great way to get advice, find information, and meet other community members who share your interest and passion.
Here you have the chance to ask questions and find valuable information about Small Planet Airlines pilot selection. Candidates that have passed the selection will share their interview experience with you.
Please Note! This study guide is an online course, we don't ship any books, CD's or any other study material. To access the study guide after your payment you must login to our website with your e-mail and password, then click on subscription (paid subscription) on left tab.
How to subscribe!
Create an account as a job seeker and Login.
Select Eva Air Pilot Interview from Interview Preparation List.
Scroll Down on the page and proceed with the payment.